Coming in August, Maquiladora - The Passion of Becky Royal (LHRLP/CDR22) 2015

Contact

Shipping in the US is always $4 per order, regardless of quantity. All international orders are $6, regardless of quantity.

MP3s
High Mountain Tempel - Processional (An Invocation to Thee Angelic Sister)
Raagnagrok - HJD
Beggars - Will We Call It Love
Maquiladora - Termez 1936
Maquiladora - Song 26
Buzz or Howl - Sendhe Mortu Chin Rigore
Earthling Tempel - Celestial Inhabitants of the Sun
Buzz or Howl - The Sins Of The Flower Are Visited On The Shunned
Maquiladora - Light of the Rain
High Mountain Tempel - The Ascended Master (Hang Gliding in Heaven)

High Mountain Tempel -

Fluctuat Nec Mergitur

High Mountain Tempel -

Tempel Walk

Buzz or Howl -

05 Oct 05

Buzz or Howl

- Sun as the Destroyer of Dreams
Live version at the Make Room SF 2005
Maquiladora - In This Life
Maquiladora - Simply to See You

Maquiladora with Kawabata Makoto
- Nampasen

Maquiladora - Drunk and Lighting Fires (A Waltz)

Maquiladora - Ritual of Hearts

Maquiladora -

Ankle


Maquiladora -

Mayday

Loraine - Pasqually Old Pasqually

Raagnagrok - Review from Aquarius Records
There's a crazy story behind this record supposedly, something about a mysterious package, containing some strange jewel, one that when exposed to certain frequencies would 'sing', emitting fantastic tones, the jewel itself resilient to all manner of abuse, according to the notes, "its lusterless surface could not be broken." Not sure what that has to do with the record itself, we were imagining that perhaps the conceit was that the tones on this record were produced by that strange object, but regardless of that story's veracity, the music itself, created by this duo, is suitably mysterious and mesmerizing on it's own. A heady, collection of lysergic spaced out psychedelic dronemusic, crafted from guitars, synths and electric sitar, each track a slow burn sonic smolder, long tones, minimal pulses, hushed and rhythmic, total kosmische bliss out, fans of Expo 70 and Tangerine Dream, and all the rest of the sonic space rock explorers, Man Woman Death Birth Infinity is another vehicle in which to escape the bonds of this earth, of this time, and this universe, immerse yourself in these otherworldly sounds, and drift heavenward, floating atop streams of ionic pulses, of tangled psych-drone melodies, of thick, pulsating drones, some of the tracks here anchored by super distorted rhythms, and laced with distorto-shred psychedelia, others introduce chugging electric guitar, and warp them in clouds of swirling electronics and spaced out FX, and still others unfurl hypnotic strands of heady buzz over processed field recordings, building lush layered ragas, every track here some kind of sonic gateway, total trip-out ur-drone bliss, like Spacemen 3 jamming with Sunroof!, which if that doesn't sound crazy good, then you might just be reading the wrong list. Fantastic, spaced out, drone-y, druggy mesmer, that is absolutely and wholeheartedly recommended.

Beggars - S/T
by Pierro Scaruffi

Maquiladora's Eric Nielsen and Bruce McKenzie joined forces with Skygreen Leopards' Glenn Donaldson to form Beggars, whose double-disc Beggars (Lotushouse, 2013) is a tour de force of ecstatic Eastern-influenced freak-folk. Mostly these pieces lean towards the traditional song format, although inevitably deformed by the musicians' pedigrees.

The ghostly hyper-dilated drones of Ghost Coyote are imbued with quasi-Morricone western-movie guitar twang and even harmonica. The sweet lullaby and the trotting pace of Eureka My Love as well as the romantic honky-tonking Justine (with a refrain a bit reminiscent of Dylan's Blowing in the Wind) hark back to the heydays of country-rock. 2-3-74 Floating evokes the martial laments of the young Neil Young although diluted amid discordant guitar jamming and lulled by waves of funereal vocal harmonies. Berserker's Boogie is a lively and poppy almost-bluegrass tune. They even intone the singalong Queen Anne's Lace with drums, banjo and all.

Thankfully, the spaced-out yodeling of Lullaby de Bourbon (memories of Aoxomoxoa-era Grateful Dead), the free-form quasi-jazz guitar and vocal interplay of Will We Call It Love, the seven-minute dreaming psalm Big Pink Sun and its sublimely disintegrating coda, remind us of what Maquiladora are best at. The 23-minute Midget Decapitates Clownis an ambitious concerto for suspense and agony. Far from being just a droning piece, it piles up sonic event after sonic event, producing the trancey effect out of a multitude of traumatic sounds. The chirping and tweeting that accumulates half-way into the piece decays into a nervous organic filigree and dies away in the most cryptic manner; one of the high points of Maquiladora's career.

Beggars - S/T
by Naysayer at KFJC

Released from Lotus House Records, this is psych country/psych folk territory. Heavy on acoustic guitar with background mandolin, organ and lots of harmonies, these songs are about lost relationships, missed chances and old secrets. They sound like they should be sung around the fire pit outside an old shack in Topanga Canyon. Dusty, weedy, afternoon sunlight that blurs the vision. Turn it on, kick back and look directly into the sun. Track 5 of CD B is a 22 minute deep listening style excursion.

Earthling Tempel - Pilgrimage To Thunderbolt Pagoda
by Aquarius Records

Not sure if this is part 4, or just the first in a new multi part epic, hardly matters, what does matter is, this is another glorious expansive collection of meditative psychedelic abstract dronefolk ambience. Every High Mountain Tempel disc we're reviewed thus far has gotten played to death here, and this one doesn't appear to be any different. Well, at least in that respect. In one distinct way it is very different, HMT are not going it alone this time. They've assembled a pretty impressive collection of sonic alchemists and musical conjurers to help with this ritual, Isis Aquarian from the Source Family, Charles Curtis from La Monte Young's Just Alap Raga Ensemble, and two crews from the UK we've never heard of, Earthling Society and Astarism, but even with all those cooks in the kitchen, HMT and friends have managed to weave another dark minimal masterpiece, all hushed barely there guitar shimmer, drifting whispered vocals, delicate crystalline melodies, dense swirls of piano, warm swells of tape hiss, mysterious voices and field recordings, whirring organ, bowed steel strings... so lovely.

If the liner notes are to be believed, two of the tracks feature Earthling Society on their own, and those tracks do sound different, much less free and sprawling, a bit more structured, like seventies UK acid folk, swirling and melodic and quite lovely. The final two tracks find the two groups in full on collaborative mode, and the gears shift to something much more space rocky and Hawkwindy, all blissed out and heart-of-the-sun, until the final track which is a strummy, delicate, moody chill out closer, a sort of dour doom folk drift, that makes a perfect ending.

Super nice packaging, silkscreened oversized 4 panel sleeve, white on black, with the cd-r affixed to the inside. And of course, SUPER LIMITED!

High Mountain Tempel - The Glass Bead Game by Aquarius Records

Part three in the ongoing series of limited cd-r explorations from mysterious drone combo High Mountain Tempel, and like the two before it, the band continue to delve into some murky sonic underworld, again presenting loooong songs, each separated by brief sonic interludes, this disc seems feature more actual vocals, the opening track features a processed voice, that sounds a bit like throat singing, or a Speak And Spell, intoning some arcane message, interwoven with long drawn out tones, and a thick ropy buzz, super dark and intense and atmospheric. Elsewhere sampled voices surface, there are bits of chanting here and there, all peppered throughout the disc. But even with the extra voices, the focus here is still on dark, lugubrious, extended dronescapes.


The sound of High Mountain Tempel is probably closest to Expo '70, as their various permutations of dronemusic seem to have a definite krautrock vibe, that gives the sound a sort of spaced out quality, and a subtle propulsion, but unlike Expo '70, HMT seem to have a distinct Eastern influence, much of the music is meditative and subtly dramatic, a bit soundtracky, and some of it sounds like it could be Japanese. Especially the way field recordings are incorporated into the sounds. Giving everything a definite texture, some of it sounding like it was perhaps recorded live in some hilltop temple. Which we would imagine is the idea.


Not sure what else to say actually. This is indeed fantastic, brooding and malefic, but also shimmery and dreamy, sonically it has much in common with the first two installments, so definitely check out those reviews to read more about their 'sound'.


Needless to say, fans of the drone and folks into the current crop of cd-r soundscapers will for sure dig this, but like the other HMT discs, this is more than simple drone music, this is ritualistic alchemical soundwork, one can almost imagine stumbling across a group of cloaked figures huddled around a fire in a forest clearing, tossing various powders into the flames, causing the fire to change color and cast beastlike shadows on the branches above, and this is the sound filtering through the forest like a black moonlit fog...
SUPER LIMITED of course, packaged beautifully in a foldover silkscreened sleeve, gold metallic on red on the outside, black on red on the inside.

High Mountain Tempel - A Screaming Comes Across The Sky - The Faultline Scriptures
by Aquarius Records

Record number two from this mysterious drone-kraut styled duo. Their last disc was a huge hit around here, so we were pretty thrilled to get our hands on this one, a logical sonic extension of the first, delving deeper into some murky tripped out twilit soundworld.
The disc opens with shimmering clouds of gongs and cymbals, whirring and sizzling, suspended over a deep distant rumble, a delicate intro to a record at once hypnotic and lovely, dark and dense.


The record is arranged into three epic tracks, interspersed with short sonic interludes, ranging from field recordings of crickets, looped chants (Elizabeth Clare Prophet if we're not mistaken), spirituals and mysterious liturgical songs, whirring drones, and backwards percussion, but it's the long tracks where the duo get to spread out, let their dense soundscapes sprawl.


The three long tracks sounds like movements of a greater whole, clocking in at 15 minutes, 11 minutes and nearly 17 minutes respectively, each rife with creepy delayed vocals, churning guitars and smeared chords, roiling muddy whirls, which often dissipate leaving streaks of fragmented melody and haunting slowed down voices. Buried amidst the drones and whirs, are lullaby-like melodies, skittery percussion, streaks of grinding distortion, hidden voices, more field recordings, thick swaths of cavernous rumbles, little bits of electronic glitch and lots and lots of low end buzz.


Packaged in a fancy navy blue fold over sleeve, screenprinted in white ink, with a photocopied insert with liner notes and song credits.


LIMITED TO 150 COPIES! Each one hand numbered.
Lotus House
Players
Isis Aquarian
The Asterism
Phil Beaumont
Keith Boyd
Max Bristol
Cotton Casino
Jason Crane
Charles Curtis
Morgan Doctor
Glenn Donaldson
Sioban Dixon
Hiroshi Hasegawa
Hiroshi Higashi
Adeline Jasso
Pall Jenkins
Makoto Kawabata
Zali Krishna
Fred Laird
Matt Luem - Lyrics
Bruce McKenzie
Tobias Nathaniel
Eric Nielsen
Dylan Nielsen
Krista Nielsen
Mark Pilkington
Becky Poole
Joe Plummer
Andrew Rosales
Saya
George Sluppick
Steven Smith
Takashi Ueno

Bands
Earthling Society
High Mountain Tempel
Peckinpah
Raagnagrok
Tenniscoats
Buzz or Howl
Maquiladora
Loraine

Labels
Bang!
Darla
Acid Mothers Temple
Jonson Family
Better Looking
Acuarela
Standard
El Despacho
La Musica
Dustbowl
Tectonic
Land Speed
Earworm

Recording, Mixing, Mastering, Art
Otis Barthoulameu
Keith Boyd
Marty Brumbach
Leila Dear
Elf
Makoto Kawabata
Austin Lynn
Asahito Nanjo
Daniel O'Sullivan
Rafter Roberts
Senkay
Yoshida Tatsuya
Kenseth Thibideau

Beggars Review from Aquarius Records
From the same label that brought us the blissed out raga ritualism of High Mountain Tempel, and elsewhere on this week's list, the psychedelic kosmische drift of Raagnagrok, comes something a little different, the first (only?) release from Beggars, a name you might not know, but odds are you know some of the players, Glenn Donaldson (Jewelled Antler, Skygreen leopards, etc.) and Steven R. Smith (Thuja, Hala Strana, etc.) as well as a member of Maquiladora. But before you go expecting some field recording flecked psychedelia, get ready for something a bit more mellow, and a lot more country. The opener "Ghost Coyote" is a twang flecked smolder, that sounds a bit like a slower, druggier, instrumental Mazzy Star, but then "Eureka, My Love", find the sound slipping into something closer to Townes Van Zandt, melancholic, sad sack country, rife with warmly organ, steel string strum, aching vocals, all reverie and softly echoey, the follow up reminds us a bit of stoner country geniuses Souled American, all druggy, and drowsy. Some of the tracks to get a little trippy, like the warmly angular melodies on "2-3-74 Floating", or the entirety of the nearly 23 minute countrified drone jam "Midget Decapitates Clown", which begins strum my and drifty, before mutating into something much more abstract and dense, tripped out and psychedelic, almost like the soundtrack to some strange psychological thriller from the seventies.
But then the second disc gets right back into it, woozy, soft psych and countrified dream folk, shades of the Grateful Dead, Crosby, Stills, Nash & Young, that sort of thing, lazy, hazy country folk, back porch, sun dappled dreaminess, with subtle bits of experimentation here and there, but really, pretty much straight up psychedelic country folk, that while well removed from the Jewelled Antler sound of old, is still pretty nice.
Double cd housed in a fancy full color digipak.

Gnosis Review from Quietus
Listening to High Mountain Tempel's new album Gnosis I am reminded of a recent staging of Shakespeare's The Tempest at the American Repertory Theatre in Cambridge, Massachusetts. During the show, the character of Ariel – the spirit enslaved to the magician Prospero – performed various forms of stage magic, often involving complex card trick and other sleights of hand. The production – co-directed by Teller, the silent half of the magic duo Penn and Teller – offers a variety of illusions, one of the most remarkable being the character of Caliban, who is played by two actors entwined. They speak in unison and roll around the stage, their arms and legs taking turns moving their bodies from place to place.

In the original play, Prospero is at first portrayed as a diabolical wizard, his powerful magic able to conjure storms. But slowly we see him as a man seeking redemption and justice, and by the play's end, "abjures" his "rough magic". Prospero admits the desire for that kind of knowledge will persist, but vows to refrain no matter the cost. He even releases Ariel from his service. But Teller's direction does not release the audience from our own need for magic, our eager collective willingness to suspend disbelief and be awed by the illusions on stage. By combining stage magic with a play about supernatural magic, Teller exposes the single most important truth about the occult. Its power lies in the imagination, particularly as it is made manifest between the audience and the magician, the tribe and the shaman, the master of the lodge and the apprentice.

All this is to say that Gnosis is a brilliant evocation of a magical ritual that pulses between the deeper spiritual desire for, well, "gnosis", and the recognition that the staging is everything. This fifth outing by the team of Eric Nielsen and Keith Boyd invites other fascinating musicians into their sacred fold, including Isis Aquarian, one of the wives of the late Father Yod. (A recent documentary, The Source Family, is very good primer on the family, their beliefs and music, and the mercurial character of Father Yod himself). Other initiates into the Tempel include Bruce McKenzie from Buzz or Howl, and Higashi Hiroshi and Kawabata Makoto from Acid Mother's Temple. The latter mellow out their typically noisy psychedelic flourishes in favour of building up the album's sacred space.

The opening track 'Processional (An Invocation to Thee Angelic Sister) is an invitation to disarm and disrobe and to don the band's garment; a collage of keyboard, guitar, synthesiser, and voice. This is not a fire on the top of the mountain. There is no thunder here. The song is a vaguely melancholic entreaty to suspend disbelief and let the magicians perform their illusions. At the outset, a voice gives warning: "Here come the birds to take it all away."

'The Wormwood Parchments (Navigating Cameron's Star)' gives nod to the 1955 film The Wormwood Star, a micro-documentary about Marjorie Cameron's work, the artist and sorceress who was married to the rocket scientist/occultist Jack Parsons and was an actress for Kenneth Anger. The song is a haunted ambient piece. There are ominous spirits at the edges, and it furthers the sense that the listener is not only an observer in the proceedings, but a participant. Like the legerdemain of The Tempest, the magic is what is happening between the listener and the performers.

Similarity with the next piece. In 'Once Upon a Golden Mountain' Isis Aquarian's 'Alpha crone incantations'--underscored by piano--sweep away the infernal sensibility of 'The Wormwood Parchments' and offer something that is akin to the feeling of taking a deep breath after you have realised how long it had been since you had one.

The fourth song on the five-track album, 'Root Food, Deer-Mating (Moon Psalm)', a guitar-heavy landscape, is another foreboding moment. The procession has seemed to move outside into the the dark of the woods to see if Pan will make himself known. It opens with a flute as a call to the god, and when he does appear, the music reflects exactly what one would expect to feel in the presence of the divine; pretty terrified. The final song 'Vu Lan Ghost' is named after The Ghost Festival, a Buddhist version of All-Hallows Eve and is something like a seance. Here, disembodied voices are channeled through some kind of electro-acoustic machine. The Ghost Festival is ancient, but High Mountain Tempel are still modern-day musicians.

As I have written before, I am deeply skeptical, and maybe even a little annoyed, with occultism that is too earnest, too literal. Umberto Eco once wrote that it was important not to "turn metaphysics into mechanics", and the best way to avoid that danger is to rely on art as the means of whatever occult expression you are trying to make. Too much earnestness in music can also come across as cloying and a little contrived, but High Mountain Tempel are sincere in what they are doing. There is no humour here, no ironic nod to the listener, something you might find on a Ghost Box Records release that wear their pop culture influences on their sleeves. But High Mountain Tempel don't have to. It's as when the audience watching Ariel perform his feats of magic during The Tempest. We knew it was an illusion but it didn't matter. Theatre is by definition a kind of magic, originally a rite where the audience encountered the gods directly, knowing all the while it is actors in costume. Gnosis is a ritual for the imagination. All you have to do is wait for the first song to start and allow yourself to be spellbound.

Gnosis Review from Aquarius Records

It's been a while since we've heard from psych-kraut-drone duo High Mountain Tempel, but Gnosis quickly reminds us why we missed these guys. Tempel-ers Keith Boyd and Eric Nielsen unfurl a softly billowing psych folk raga, that's all softly swirling steel string strum, circular melodic shimmer, crooned, almost chant like vocals, the disc also featuring a bunch of guests, including some Acid Mothers Temple folks, as well as Charles Curtis and Isis Aquarian (!). Unlike the more purely ritualistic minimalism of the other records, the opening track here sound more like some Appalachian psych-folk, blurred into something a bit more abstract. But the group quickly returns to that ritualism, conjuring up strange fields of softly shimmering dronemusic, subtle bits of percussion, chiming harmonics, whispered incantations, those two sides of HMT's sound constantly in flux, delicate piano draped over processed whispered vocals, transformed into clouds of grey hissing sibilance, sounds pitched down to create ominous bellows, that become dubbed out drones, sampled voices also doused in FX drift over the top, churning industrial noise gives way to almost Native American sounding minimalism, fluttering flutes, shakers and bells, distant field recordings, swirling backwards melodies, swooshing ambience, and muted droning FX, occasionally blossoming into a sort of collaged soft noise-psych, and just as often expanding into a sort of free-rock campfire forest-folk. The long tracks laced with bits of psychedelic freakout, shards of feedback, buried voices, and constantly shifting layers and textures, all blurred into a heady, heavenly psych-drone ritual, that is mesmerizing and dreamily hypnotic. It's a cd-r, but comes housed in a nice full color digipak, and yeah, probably pretty limited too...


Raagnagrok by the Queitus

Occultism in the oughts is going a bit off the rails. Psychonauts are mixing their DMT with chaos magick and conjuring Lovecraftian elder gods (all three activities that Lovecraft would have likely despised). Ancient alien theories are making a comeback and Satanists are trying to get statues placed in city halls. All of this is well and good. Anything that continues to perpetuate the weird is okay in my book, but does it all have to be so artless? Thankfully there are islands where folks are using these ideas and images to actually create something, to reflect on the human experience, to deepen our relationship to myth and metaphor. It doesn't matter if you are an arch-druid or a Christian; If you are literalising myth, you are doing damage. So when something like Raagnagrok's Man Woman Birth Death Infinity comes along – an album that finds a group of musicians knowing how to be both playful and artful while grooving on an occult wavelength – it is worth taking special note.

According the liner notes for the album, the music is a result of a Quartermass-like experiment with a strange stone or gem that responds when subjected to "broad and narrow range frequencies in Pythagorean clusters". The resulting sounds are the supposed foundation for the musicians Mark Pilkington and Zali Krisha to craft an album around. There is nothing like a mysterious artifact at the center of an album to inspire a listening that is reminiscent of what it was like in the 1960s and 1970s when we pored over our albums looking for clues to some esoteric knowledge. It is the rumors of Paul McCartney's death, the obelisk on Led Zeppelin's Presence, the hidden occult wisdom in Roger Dean's artwork. But more than that, it is the pop culture that all this inspired and was inspired by, from aliens to Dungeons & Dragons, the Necronomicon to Ralph Bakshi's Wizards. But never minding all of that and how well Raagnagrok play in that sandbox, the music stands all by itself.

Analog synths oscillate and drone around guitar and sitars, resulting in a classic expression of Kosmiche. It's what New Age music could have been if it didn't take itself so seriously and allowed for a little accident and noise to bleed in. The opening track 'Elephanta Gateway' propels the whole effort forward with a little Fripp-inspired guitar work. 'Man' is peppered with Forbidden Planet-like effects and 'Women' goes the other way with a terrific fuzzy guitar dominating the piece.

The next three tracks, 'Birth', 'Tenebrae', and 'Mount Pelle' seem particularly improvised, but most of the album could be heard in this way. Pilkington is having fun with what must be an enviable collection of electronics and synths while Krisha meditates over his guitar. This lends itself to a wonderful tension between the two and again is reminiscent of stories where some ancient alien power makes itself known in the modern world, bringing with it some new technology that looks like magic. A lot of current synth-based experimental work can easily be likened to a soundtrack, and while this is often the intention, it sometime undermines the ability of the songs to exist as singular investigations into a mood or idea. Man Woman Birth Death Infinity feel like individual sessions in an alchemists lab, or better yet, two magicians scrying music out of their shew stone. The medium is the same, but the messages from the other side are all unique. Coming through from the other side each time is a different entity with a different name offering a different bit of information. And like any good occult-inspired art, the nature of that message should be opaque, enigmatic. Even the titles of the songs are mere symbols. Listen to the music, contemplate the emblem, find your own daemon.

'Death' and 'Infinity' are stand out tracks, and with closer 'HJD' (Heliocentric Julian Day?) the whole thing is brought to an hour of sublime listening, but with a wink and nod to the influences that make something like this possible. Pilkington is best known for being the hierophant of the terrific Strange Attractors Press and an important advocate for underground culture and music. But this is not the underground of Feral House and transgression, of conspiracy theories and black magic grimoires. This is the underground where occult and esoteric ideas are turned into narrative, consciousness exploration and – as on this wonderful album – art. Raagnagrok spins a story of Rosicrucian mysteries and weird science in their presentation, but the result is something that embraces and transcends those pretensions. All contemporary occultism should be so honest and bold.

Raagnagrok by Freq
Is it a joke, disguised as a New Age record? Or a cosmic drone record, masquerading as a joke?

In July 2005, a small package was delivered to an address in Stamford Hill, London for the attention of Mr Otto Amon and Mr Solomon Kirchner. The gentlemen who received the package have never revealed who sent it to them or what was inside it but a body of urban myth has grown up around the Lapis or Ovoid that was rumoured to have been seen in various locations around London, from Frognal to Fitzrovia.

That's about it as far as background information goes for this new transmission from Raagnagrok, the spacy duo of Amon and Kirchner. Man Woman Birth Death Infinity explores and expands upon the psychedelic guitar plus electronics kosmische template to create a headphone journey from womb to dark matter.

In this day and age, it seems as if there must be some backstory, some angle, some selling point on which an album may ride. Perhaps Mssrs. Amon and Kirchner know this, and are playing with the concept – but luckily, there is no need. This is no mere press hoax hyperbole, as the music contained herein beyond the "Elephanta Gateway" is quite good. The pair have managed to make a classic headtrip of burning, growling electric guitar, trancing electric sitar and homemade, hand-hewn analog electronics.

Man Woman Birth Death Infinity comes off as a meditation record from 1979, but with some modern flourishes. Guitar loops, ubiquitous among duos, set a hypnotic mood that allow the pair to fill the space and elaborate upon a theme: raga status. Raagnagrok also know how to switch it up, elaborating upon the guitar/synth template with hints of percussion, growling bass and strobing tape loops. M W B D I sets a mood and keeps you there, unfurling in the air with sinuous grace, like an oracular vision. It will turn your bedroom/living room/automobile/apartment/five-story mansion into an ageless, vine-covered temple: the air is thick with sandalwood and copal, a rift beyond the stars is rended, and you will see.

This thick mood would not be possible if the individual elements were not glowingly captured and laid to tape. The slightest disruption would break the spell, like a lucid dream or out-of-body experience. The guitars sound noble and brave, what it might sound like if Gandalf were playing with Amon Düül II, and the electronics are warm and analog, with a degree of human irregularity which makes them more interesting than the typical digital machineloops. Raagnagrok know how to fill the space, improvising like only two people who know each other and their gear well can do.

Raagnagrok have been described as "kosmische exotica", "Euclidean Dronemusic For Algorithmic Lovers" and "Mesopotamian Grokmusic For The End Of Days". This sense of humor mixed with awesomeness makes me think that I would like these people, and they are worthy of adulation. Man Woman Birth Death Infinity will appeal to classic drone heads, to fans of Cluster, Terry Riley and La Monte Young, as well as recent psych masters like Expo 70 and Gnod. If you're looking for a shamanic journey into past lives, look no further.

_____
Raagnagrok – Man Woman Birth Death Infinity from Jam Band
With a name like Raagnagrok and an album titled Man Woman Birth Death Infinity, you'd probably be pretty disappointed if it wasn't some out-there, mind-bending shit. Never fear, this mysterious music and its mysterious background certainly does not disappoint on that front. This is the kind of instrumental rock that leaves coded messages in cornfields late at night, that abducts unsuspecting farmhands into flying saucers, that hides out with the Abominable Snowman and swims with the Loch Ness Monster…and it's pretty damn heady, too.

Raagnagrok – Man Woman Birth Death Infinity From BlogSanDiego.com
Somewhere along the continuum of MAN WOMAN BIRTH DEATH INFINITY you will see, hear, feel and find just about everything. Given enough time all of those polarities and seemingly opposite states resolve themselves into a fluid mosaic of balance.

With this collection Raagnagrok have given us a sonic tone bath. An Alchemical mirror that both reflects and absorbs. From the opening rubbery wobbles of Elephanta Gateway to the expansive drift of Infinity, this album both delights and surprises.

Raagnagrok is an aptly named neologism of a name. Ragas are composed to enhance or reflect upon everything from Hindu religious epics to the passing seasons to the quality of light during various times of day. They follow set patterns but give ample room for both repetition and variation. "Grok" is a Robert Heinlein word and concept from the watershed Sci-Fi novel, "Stranger in A Strange Land". Like many words from other languages, "Grok" bumps up against the constraints of English in terms of direct translation. It is a word that condenses multiple nuanced meanings but perhaps the closest approximation is to understand and deeply encounter something. The "something" could be a piece of art, an idea or another person. To "Grok" something is to reach a point where the boundary between observer and observed dissolve and a point of unity is achieved.

So what does this tell us about the effect and experience of Raagnagrok's music? It tells us that we can expect a solid dose of open-ended sonic reflections with deep layers to get lost and found in. Although each piece stands on its own I highly recommend giving this album a listen from top to bottom. Zali Krishna and Mark O Pilkington manipulate all manner of electronic tools but never forget to let the human element in. There are sitars and guitars winding and weaving through Roger Deanesque landscapes. My only wish from this album is…MORE! I want more Raagnagrok music to accompany me through my own forays and journeys with MAN WOMAN BIRTH DEATH INFINITY.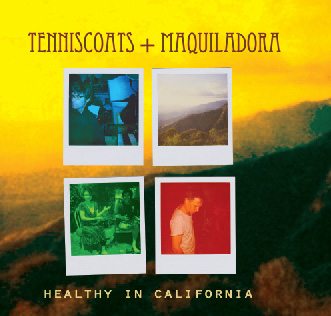 Tenniscoats + Maquiladora - Healthy In California (LHRLP/CDR21) 2015


1 Hours
2 Uma Song
3 Healthy
4 Ueno
5 Red Sight
6 Dloan
7. Healthy + Morning Song

A collaboration album of avants-pop beauty by Tenniscoats (Saya and Takashi Ueno of Tokyo) and Maquiladora, (Bruce McKenzie and Eric Nielsen of California).

Mixed by Bruce McKenzie on Mt. Washington, Photos and artwork Bruce McKenzie and Senkay

Recorded in the lower chamber of The High Mountain Tempel Oceanic Lodge Ocean Beach, San Diego California. The album will be available in vinyl, a short run of cd's (each inside a cloth, handscreened bag with an 11 X 11 inch two sided color poster of the album art). CD's will be available in August and vinyl this Fall. Now available as a download.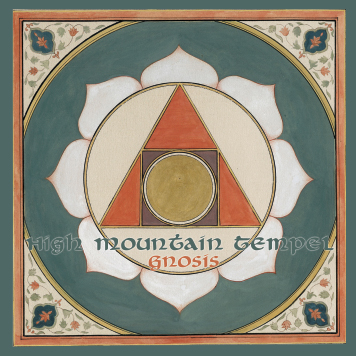 High Mountain Tempel - Gnosis (LHRCD20) 2014
Available as a download

"Gnosis is a brilliant evocation of a magical ritual.." - Quietus

1 Processional (An Invocation to Thee Angelic Sister)
2 The Wormwood Parchments (Navigating by Cameron's Star)
3 Once Upon a Golden Mountain (Yodmother Isis and the Mount Washington Working)
4 Root Food, Deer-Mating (Moon Psalm)
5 Vu Lan Ghost (A Solemn Sharing)

It's been a long gestation of creation. In the dust and stones of a dry riverbed seeds cracked, opening themselves to any deluge. When the flood waters finally came everything became the Mud of Chaos. Now swollen with water the seed burst forth with roots and tendrils seeking both Earth and Sun. High Mountain Tempel Rising!

"Gnosis" is the fifth release from these seekers of sonic dissolve and drift. Tapping into their deep love of the Pacific, the Sierras, the Sacred Freeway Off-Ramps and the Emerald Tablets of California Mythology they have carved out new roads and new paths leaving Golden Ashes to light the way.

Tempel Monks Eric Nielsen and Keith Boyd welcomed many honored pilgrims for this voyage in sound and time. Kawabata Makota and Hiroshi Higashi from the impeccable Acid Mothers Temple joined in providing bowed guitars and swirling, hymnal synth lines. Alpha-Crone and Source Family Dragon Lady Isis Aquarian beamed in from Hawaii to breathe the Father Yod Family lineage into our hearts and minds. Charles Curtis blessed us with spacious and gigantic piano tones. Bruce Mckenzie, the Sage from high atop Mount Washington was as always the Koan Master and Alchemist gleaming gold amidst the ruins and molding clay into Golems. Leila Dear brought her artistic mastery, informed by the esoteric and geometric to Square the Circle for the cover art.

It was a wonderful collaboration spanning time, distance and space. This distillation we offer up with the hope of pleasing and challenging the listener. Listen deeply. Go FURTHUR.

Traveling Monks
Bruce McKenzie - Sings on Track 1 and plays Recorder on Track 4
Charles Curtis - Plays Piano on track 3
Isis Aquarian - Alpha Crone Incantations on Track 3
Makoto Kawabata - Bows Guitar on Track 4
Hiroshi Higashi - Plays Synth on Track 5

Mixed by Bruce McKenzie, Artwork by Leila Dear, Photo and Layout By Krista Nielsen, Mastered by Kenseth Thibideau

Recorded in the Upper Chamber of The High Mountain Tempel Oceanic Lodge and the Leper Colonies of Arrakis

Dedicated to The Ancestors, Pacific Ocean Mineral Spirits, The Offspring of the Sun, the Waders of the Slipstream, All Blessed Journeymen, John Muir riding the lightning high above the world and in memory of Hetch Hetchy.

Now available as a download